The hijab has long evoked strong feelings, both within Islam and among non-followers of the religion.
World Hijab Day was created in an effort to promote personal freedom of religious expression and enhance cultural understanding by inviting women from all walks of life to experience hijab for a day on February 1.
This year marks the 11th annual celebration and aims to encourage "progress, not oppression", supported by the #UnapologeticHijabi hashtag on social media.
Here, Sky News looks at the stories of four women, including the founder of the global campaign.
How it all began
Nazma Khan launched World Hijab Day in 2013 after realizing she wasn't the only one facing prejudice simply because she chose to cover her hair.
He traveled to the United States from Bangladesh with his family at the age of 11 and moved to his new home in the Bronx, New York.
She began wearing the hijab shortly after moving in and said she had faced intolerance from some ever since.
"Women in different parts of the world were also subjected to abuse and discrimination for wearing the hijab," she told Sky News.
"My parents came to the United States to give us a better education, and I didn't want to disappoint them."
As she began to build a life in a country that was foreign to her and her family, she said she faced many challenges and unpleasant comments.
"The children were waiting for me outside the school to surround me and spit on me"
Describing her encounters and transitions to a new city and school, Ms. Khan said she was often teased and insulted by students for her hijab.
"I was called names like 'Batman,' 'ninja,' and 'Mother Teresa,'" she said.
She said that the children "waited for me outside the school to surround me and spit on me", often threatening to remove her hijab.
'I felt like someone had taken my identity'
Post-9/11 public life was difficult for many Muslims in the US and Ms Khan, who was attending university at the time, said it made her life much worse.
"I was chased through the streets of New York City and labeled a terrorist for being a visibly Muslim woman," she said.
"I was so afraid to leave my house."
The racist abuse and chants led her to remove her hijab.
"I thought maybe this would be easier, but it wasn't," he said.
"I walked into the university, feeling uncomfortable, I clung to my clothes and wanted to cover myself."
With tears in her eyes, Ms Khan said: "I felt like someone had taken my identity."
After a day without a hijab, she said she decided that life without a hijab was not what she wanted and that she chose to defy her strength in the face of racism and discrimination.
"After taking off my hijab and putting it back on, I felt like I was renewing my intentions with my hijab," she said.
She said the change felt empowering; the racist chants no longer discouraged her and became a source of strength.
The Facebook page that would become a global movement
In 2013, Ms. Khan created a Facebook page titled "World Hijab Day."
It was designed as a platform where people could come together to tell their hijab stories and show support for one another.
Ms Khan said it also provided an opportunity for non-hijabis and non-Muslims to walk "in my shoes for a day".
"I wanted to help my sisters alleviate their situation by raising awareness about the hijab," she said.
"So, I called on women of all backgrounds and religions to wear a headscarf on February 1 in solidarity with Muslim women."
He said that by 2014, the World Hijab Day page had reached more than 44 million people and that it became a hot topic on Twitter the following year.
Since its launch 10 years ago, the movement has seen many milestones, including being recognized by the states of New York and Michigan and being featured on Meta's official Instagram page.
TIME magazine recognized February 1 as World Hijab Day in 2016.
Non-Muslim women now get involved in the event by wearing a hijab on February 1, taking selfies and attending events.
Freedom of Choice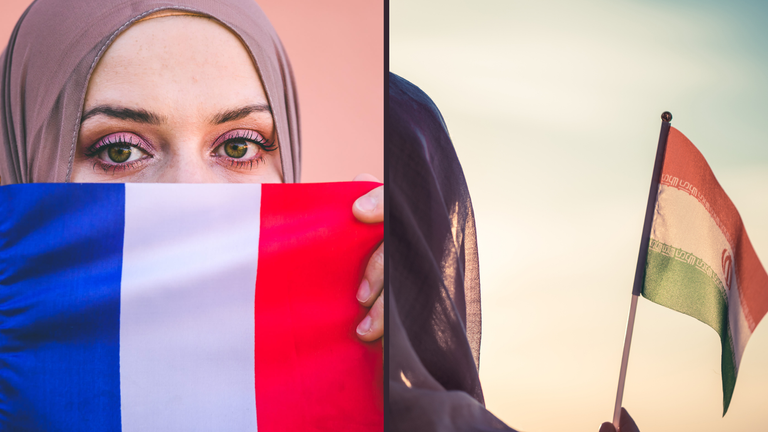 While the empowering benefits of the hijab for many people are recognized, it is also important to recognize that it has taken on a very different symbolism in some parts of the world.
In Iran, women have been fighting for their freedom and the right to choose how they dress.
The death of mahsa amini in 2022 caused outrage across the country.
The 22-year-old had been arrested by Iran's so-called "morality police" for allegedly failing to wear the hijab in accordance with the nation's strict laws.
Her death in custody prompted many Iranians to take to the streets to demonstrate against the government and its hijab rules.
In France, however, while hijabs themselves are not prohibited, the rules also govern how women are allowed to dress.
The country made it illegal to wear a veil or other face covering in public spaces through a law passed in 2011.
And in 2022, a French court ruled that women in the city of Grenoble should not be allowed to wear full-body clothing. Burkini swimsuits in public swimming pools.
Understanding the hijab
The term hijab, in Arabic, refers to a partition or curtain, both in a literal and metaphorical sense.
It is also the name given to a garment worn by Muslim women to cover their hair, which many Muslims believe is obligatory in Islam for all women who have reached puberty.
The hijab is often worn as an act of worship in the Islamic faith.
It has become a sacred form of clothing for many Muslim women and the piece is worn in a variety of ways, in different styles and colours.
The hijab, for some, is a sign of resilience, hope and progress.
Read more:
Two young lawyers design and launch hijabs for the court
Barbie's first hijab doll pays tribute to Olympic fencer
For many women and girls, it is part of their identity and there has been a significant change in the way hijab and Islam are viewed.
From the world of media to politics, the hijab and the women who wear it have stepped up over the years to break boundaries and rewrite the stereotypes associated with it.
Apsana Begum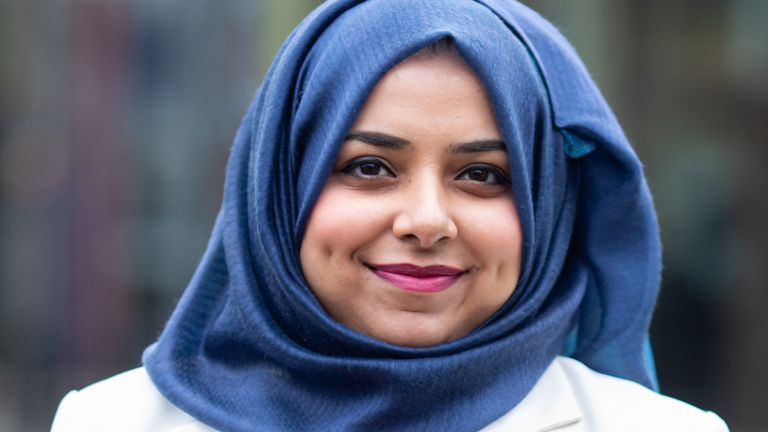 Apsana Begum, 32, was the first female MP to wear a hijab, after being elected Labor MP for Poplar and Limehouse in 2019.
Speaking to Sky News about his trip, he recalled first entering the parliamentary chamber.
"It was a full house and I remember seeing heads turn from opposite pews," he said.
"I stood out and realized the gravity of what we had accomplished with my election."
Ms Begum said she felt this paved the way for other hijab-wearing women in the UK who also had political ambitions.
"It's been amazing to give people a sense of hope and a sense of aspiration," he said.
She also spoke about the specific challenges she faced when she was first cast.
"The context in which we were at that time with the election and with the former prime minister Boris Johnson's 'mailboxes' comments… It was tough," he said.
The hijab, for Ms Begum, is a symbol of unity, and she said she felt it was the "center" of who she is as an individual.
fadumo olow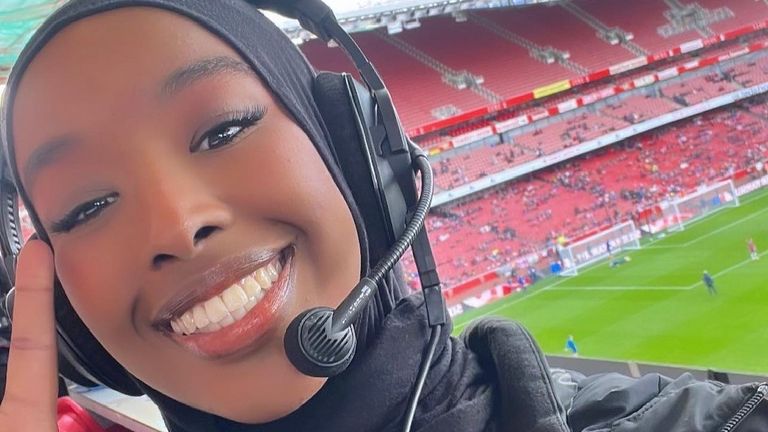 Fadumo Olow, 27, is a sports reporter for Sky Sports who started wearing the hijab around the age of 11.
She told Sky News that her hijab journey was influenced by seeing members of her community, family and friends wearing it.
Speaking about her connection to the hijab, she said that before she was 16 she was "very relaxed around it, maybe not understanding it too much", but then "made a conscious effort to understand the hijab".
Ms Olow said that as she grew older, she learned about the "importance of the hijab in Islam, but also the value it holds for Muslim women around the world."
"After the age of 16, I took it more seriously and it brought me closer to my faith," he said.
She says the hijab helps her "perk up" "more than the average person probably thinks," adding that that was the reason she started wearing it in the first place.
Ms Olow said the hijab made her feel "a sense of empowerment, peace and comfort."
When asked about the industry she works in, she said: "It's rare to see women wearing the hijab on sports news.
"However, the steps taken towards visual representation in this industry show that there is room for everyone and that we are moving in the right direction.
"The hijab makes me more self-aware and comfortable and I hope to wear it in the best way."
Furvah Shah
Furvah Shah is a 23-year-old journalist who started wearing the hijab at 15.
She told Sky News that when she started wearing the garment, she faced many difficulties.
"People that I had known for many years began to treat me differently," he said.
He also highlighted the abuse he faced as a result, experiencing Islamophobic comments and awkward looks.
Choosing resilience over hate, Ms. Shah didn't let negativity fuel her hijab journey.
She said she felt the hijab brought a "sense of community" and was an opportunity for her to represent her faith in a positive way and change the negative images people associate with Islam.
"The hijab, to me, is belonging and empowerment," she added.
So what's next for Ms Khan and World Hijab Day?
Speaking about her future plans, Ms Khan said: "We want to create a job training and mentoring program for those women who are struggling with their hijab."
She and her team are working to create workshops within educational institutions and workplaces.
They will offer women the opportunity to seek help and guidance if they feel their hijab is being threatened.
Ms Khan told Sky News that for people to understand Islam and hijab, "we need to have a dialogue to change the world, we need to bridge the gap, extending our hearts and hands to others.
"It's our job to go out and teach, so that people understand us."