WASHINGTON — The House committee investigating the Jan. 6 attack on Capitol Hill voted unanimously Thursday to subpoena former President Donald Trump.
The panel members, who held what was expected to be their final hearing before the midterm elections on Thursday, had previously said they were still considering pursuing an interview with either Trump or former Vice President Mike Pence. Sources familiar with the committee's plans told NBC News about the subpoena on Thursday.
The panel's chair, Rep. Bennie Thompson, D-Miss., said the committee had an "obligation" to listen to Trump.
"This is a question about accountability to the American people. You must be held accountable. You are held accountable for your actions. You are held accountable to those police officers who risk their lives and bodies to defend our democracy. He is required to respond to those millions of Americans whose votes he wanted to scrap as part of his scheme to stay in power," Thompson said, acknowledging the move as a "serious and extraordinary action."
The resolution to subpoena Trump passed with the support of all members, 9-0.
The resolution was introduced by the panel's vice chair, Rep. Liz Cheney, R-Wyoming, who called Trump the "central player" in the unrest.
A source familiar with the committee's plans told NBC News that the panel plans to issue the subpoena in the coming days.
The panel has a tight time frame: The subpoena is set to expire at the end of this term in Congress, and Trump is likely to challenge it. Asked after the hearing if the committee is prepared to fight a subpoena in court, Thompson said, "Let's see what happens," adding of Trump: "We hope he follows through."
The former president mocked the committee on his social media website Truth Social, but did not say how he would respond to the subpoena.
"Why didn't the Deselection Committee ask me to testify months ago? Why did they wait until the very end, the final moments of their last meeting? Because the Committee is a total 'BUST' that has only served to further divide our Country," the post said.
in a series of tweets After the subpoena vote, Trump spokesman Taylor Budowich also did not say how Trump would respond to the subpoena, but predicted that "Trump-backed candidates will sweep the midterms "next month" and leadership will be restored and America First solutions.
The subpoena comes more than a year after the committee began investigating the insurrection and despite several members of Congress previously acknowledging that Trump was unlikely to comply.
Still, subpoenaing the former president had been under consideration for some time and had been an active topic of discussion among committee members.
In its extensive investigation, the panel has already conducted more than 1,000 interviews and statements. It has also received hundreds of thousands of documents and some 100 subpoenas are known to have been issued.
Thursday's hearing once again placed Trump at the center of plans to overturn the election, ultimately leading to bloodshed on Jan. 6, Cheney said in his opening statement.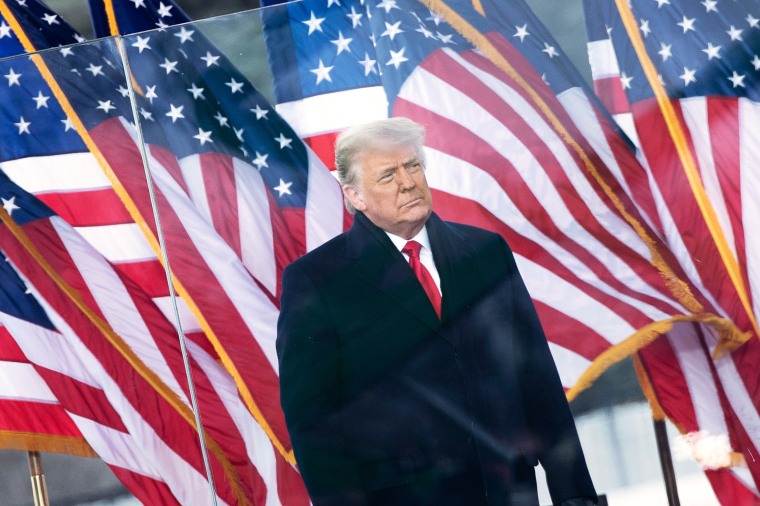 "None of this would have happened without him. He was personally and substantially involved in all of this," he said. "Today we will focus on the state of mind of President Trump, his intention, his motivations and how he encouraged others to do his bidding. And how could another January 6 happen again if we don't take the necessary measures to prevent it?
Cheney also said the committee "may ultimately decide to make a number of criminal referrals to the Justice Department," though he said lawmakers "recognize that our role is not to make decisions about prosecution."
Trump would not be the first former president cited by Congress. Several current and former presidents and vice presidents have also testified before congressional committees, including Presidents Abraham Lincoln, Woodrow Wilson, and Gerald R. Ford.
It's unclear whether the committee will seek to interview Pence, who blocked Trump's Jan. 6 attempt to nullify the 2020 presidential election and who faced hanging threats that day.
In August, Pence said during an event in New Hampshire that he would consider testifying before the House Jan. 6 committee if invited to appear, but suggested he would have to resolve some constitutional issues before committing.
"If we were ever given a formal invitation, we would give it due consideration," he said.
Thompson said after the hearing that there were no plans to subpoena Pence and suggested the panel might not formally request to interview him. "We have collected enough evidence that former Vice President Pence did his job," Thompson said.
Thompson had previously suggested Thursday would be the committee's final hearing, but several of its members recently said that might not be the case.
Asked on MSNBC's "Morning Joe" if there will be additional hearings, Rep. Stephanie Murphy, D-Fla., said the investigation "has a life of its own, and we keep finding new information."