Nigerians, especially Christians, have been urged to make wise decisions in the upcoming general election.
Abuja's Catholic Archbishop Ignatius Kaigama has called on electorates not to be divided as the 2023 election approaches.
Kaigama made the appeal on Sunday while delivering a homily at St. Joseph the Worker Catholic Church, Kugbo, Abuja.
The Rev. Ignatius Kaigama, Catholic Archbishop of Abuja, says Nigerians should unite to elect credible political leaders in the 2023 general election, The Cable reported.
The clergy said this on Sunday, October 9, while preaching at St. Joseph the Worker Catholic Church in Abuja.
Kaigama sends an important message to Nigerians
Kaigama said that Nigerians should turn their frustrations into a propeller that allows them to make reasonable collective decisions in 2023.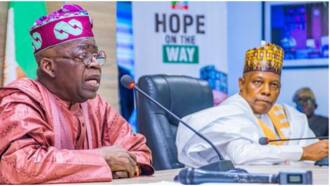 2023: Turn as APC Christians dump Tinubu, Shettima, reveal final position on Muslim-Muslim ticket
"In the ugly situation of our country, we must be united, particularly in making wise political decisions because God can remove the socio-economic and political leprosy from the country and the only way we can guarantee that this happens is by voting. " he said.
Election 2023: Nigeria's unity cannot be compromised, powerful Yoruba monarch declares
Powerful Yoruba monarch Oba Hammad Adekunle Makama Oyelude (Tegbosun 111), the Olowu of the Kingdom of Kuta, says Nigeria's unity as a nation cannot be compromised.
The monarch made it known on Friday, October 7 at the "Our Nigeria News Magazine Awards" held at the international conference center in Abuja.
The monarch, and royal father of the day, said Nigerians must always put the interests of the country before any religious or tribal sentiments.
Catholic Leader Says APC's 'Muslim-Muslim Ticket Is A Political Decision', Reveals Who Faithful Should Vote For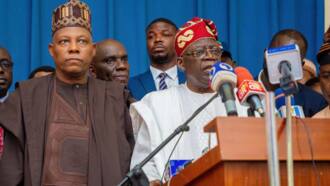 CAN, NFP must stand firm against same-faith ticket, say US-based Nigerian pastors
Cardinal John Onaiyekan, archbishop emeritus of Abuja, has said that the very formula of faith of the All Progressives Congress (APC) is the best political decision for the party.
However, the cleric noted that the Catholic Church had not positioned itself on the ruling party's Muslim ticket in the 2023 presidential election.
The religious leader said that the Catholic faithful would decide their choice of candidate individually in the elections, adding that he would not vote for the ruling party due to the same religious candidacy.
Source: Legit.ng